Wedding invitations Canberra loves
Artforme combines contemporary technology with traditional letterpress printing to produce outstanding hand-crafted wedding stationery.
We produce distinctive letterpress or foiled invitations, save the dates, RSVPs, information/map cards, reception stationery and more.
We can also help you with design ideas and artwork.
Let's get started…
Call Sam now on 0430 153 375 or email sam@artforme.com.au and tell us about your wedding stationery ideas.
Busy now? Leave your details below for him to contact you.
…or visit the studio
Drop in to our studio to discuss your wedding stationery ideas and see samples of our stationery first hand.
The studio is available by appointment during or after working hours and on weekends.
Please tell us your time and date preferences in the form below and we will contact you to confirm.
* Required fields
What Artforme customers are saying:
"We used Artforme Letterpress Studio for our wedding stationary and I cannot praise Sam highly enough. My partner and I were really happy with the quality of our invitations and Sam was fantastic throughout the whole process. He worked with my ideas (incorporating artwork printed onto the invitation before being letterpresses) and provided thoughtful advice on what would work well. He answered questions quickly and was always available to meet with me when I needed to just talk it through or see examples. He showed me around the studio and the letterpress process. I cannot recommend getting someone local enough, and Sam is beyond excellent!"
— Morgan (Google Review)
"Thank you so much to Sam for printing exactly what we asked in a really tight timeframe. We searched high and low for somewhere in Canberra that can do gold foiling. We were told that nowhere does it but that was very wrong! Artforme can do it! We are very happy with Sam's work. Thanks again!"
— Jess F (Google Review)
Canberra's leading wedding invitation printer answers your questions
Since 2007, Artforme has printed wedding invitations in Canberra for hundreds of happy couples. Here's our expert advice for creating beautiful stationery for your wedding.
When to post your wedding invitations
The first question many couples ask is one of timing.
Usually wedding invitations are posted 4-6 months before the wedding. Where possible, we advise couples to avoid posting over Christmas with an RSVP date in January due to the increased mail volume and the likelihood of guests being on holiday.
Tip – if you want to save money, forget save the date cards and send your invitations out earlier.
When to see your printer
Printing production time is usually 6-8 working days from approved final artwork for letterpress printed or foiled wedding invitations. The production time can be reduced in special cases.
Tip — to avoid delays in posting your printed invites, finalise your guest address list when your wedding stationery artwork is approved.
What to expect budget-wise
The letterpress and foiled wedding invitations we print on 100% cotton paper are recognised as luxe, high end stationery.
We quote based on your ideas and budget and offer suggestions to help you save money where possible.
What about reception stationery
We can help you with welcome signs and seating charts, either rigid or flexible, designed to match your wedding stationery
We print menus, place cards, table numbers, gift tags and thank you cards – all themed with your wedding stationery, if requested.

"Working with John is always a pleasure. He is timely, sensitive and his attention to detail is unparalleled. He goes above and beyond to make sure each and every detail is taken care of, and makes sure that every client receives personalised service, regardless of their needs." — Beatrice Smith, Online Editor | HerCanberra
Set the scene for your wedding with letterpress or foiled wedding invitations
Your wedding invitation is the first glimpse guests see of your wedding, so you want it to tell them in more than words about your wedding theme.
The deep impression on heavy weight cotton paper gives letterpress printing a unique style and character. Couples can choose from a wide range of ink and foil colours to create truly outstanding stationery, designed especially for their wedding.
Whether your style is formal, art deco, rustic or something else again, nothing quite sets the scene for your wedding like letterpress wedding stationery.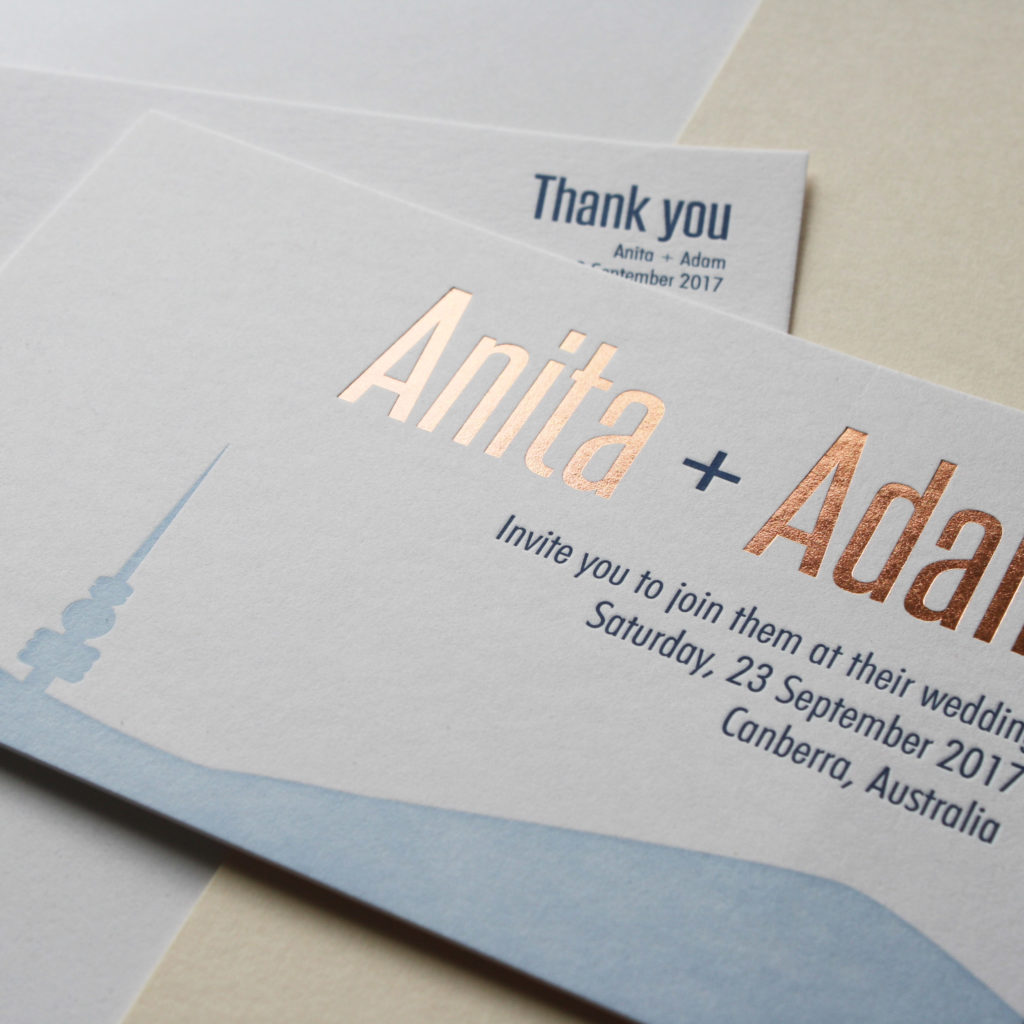 "We used Artforme Letterpress for our wedding. We were really happy with the quality of our invitations and Sam was fantastic throughout the whole process. He provided really helpful advice, was quick to respond to any questions and delivered on time. The whole experience was great." — Anita and Adam
See (and feel) samples of our letterpress wedding stationery first hand
A studio visit will allow you to view hundreds of samples printed or foiled on high quality imported cotton paper and see our letterpress printing and foiling equipment in action. We offer free samples to studio visitors.
All wedding stationery is created at our Canberra print studio – from artwork creation, printing, foiling and finishing – allowing us to control quality and timelines.
To suit busy couples' working commitments, the studio is available by appointment during or after working hours and on weekends.
Sam will help you finalise the details for your wedding invites and provide you with a firm quote.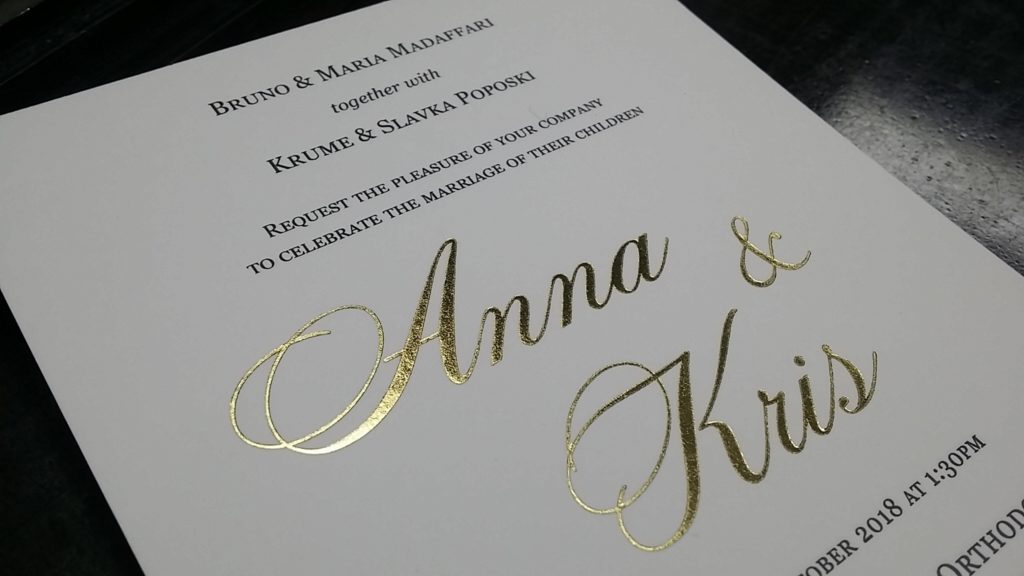 "From the moment I contacted Sam from Artforme, he was an absolute delight to work with. Not only was he very responsive, but he went above and beyond to create our perfect wedding invitations. Sam took the time to meet with us and discuss lots of different options available. We were so impressed with how efficient and timely he was, not to mention the attention to detail. I can't recommend Artforme enough!" — Anna Madaffari
Designing your wedding invitations
Artforme can design your letterpress wedding invitations
With a trade background in typesetting, Sam can design your wedding stationery and provide advice on paper, ink and foil selections.
There is no shortage of inspiration from the work we have produced or other images online and in wedding magazines.
We work with couples to create a wedding stationery style that reflects their wedding theme and personal choices.
We usually create artwork within 48 hours from receipt of final copy and have final artwork ready for printing after no more than 1-2 proof movements.
Tip – to save time, make sure your copy is final before sending it to us for artwork.
Tip –Artforme offers an address printing service for your invitation and RSVP envelopes with the typeface and colour matched to your wedding invitations.
If you are supplying artwork, it is important for your designer to make sure the file is set up correctly. We can work with your designer to ensure great results.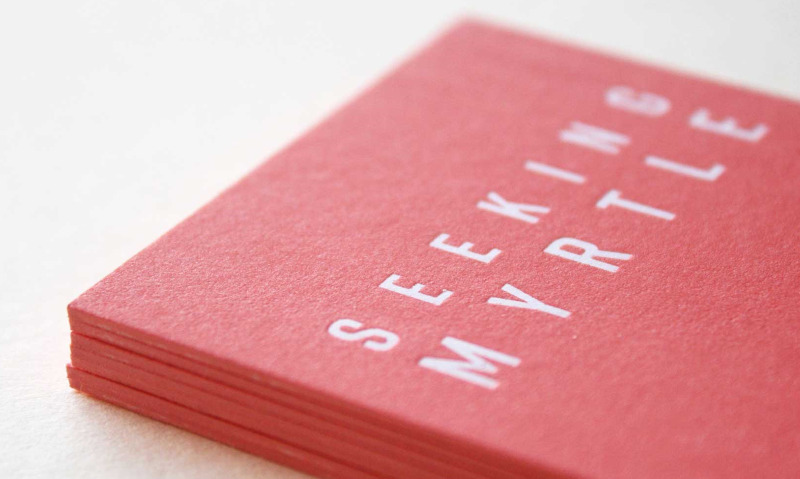 "Stumbling across Sam and his exquisite collection of wedding stationery at a bridal fair, we knew Artforme Letterpress had to be listed on our curated wedding directory. The unique wedding stationery sends a statement to wedding guests and lets them know your wedding will be one to remember. Loving the product so much, we enlisted Sam to create our business cards, matching our colour and branding perfectly." Amanda – Seeking Myrtle
Ask for a quote
If you know your wedding invitation requirements simply request a quote or call 0430 153 375 and we will send you a firm quote.
For those undecided, a call or studio visit to discuss your style ideas – and see a wide range of letterpress printed and foiled samples – will help you make the right choices.
To provide you with an accurate quote, we need to know the number of items in your wedding stationery suite, e.g. save the date, invitation, RSVP, wishing well, and the quantity, size, number of colours, type of paper and artwork requirements for each.
Tip –drop in to the studio or call to discuss your wedding stationery details so we can gain a thorough understanding of your needs, offer cost saving suggestions and give you an accurate quote.
Wedding stationery